Source: http://www.gumbopages.com/food/shr-creole.html
Region: Creole
Rating: 9/10
You can use this recipe to make Chicken Creole by substituting a 3 - 4 pound chicken, cut up (or 2 - 3 pounds of chicken breasts), seasoned and browned, and using chicken stock instead of shrimp stock.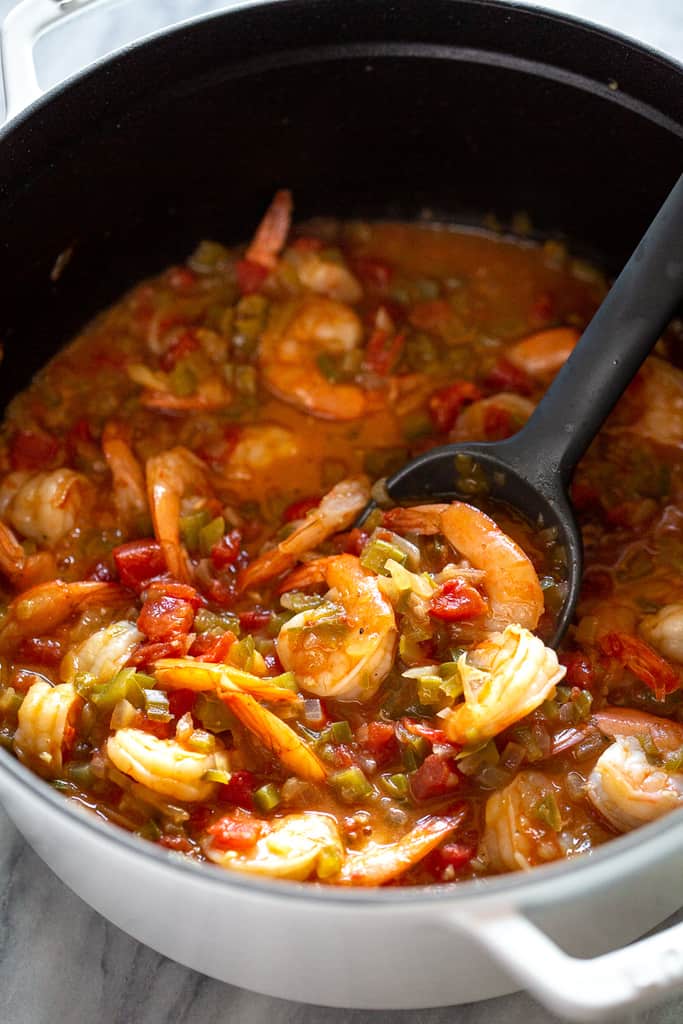 ¼
cup
olive oil (or use 2 tablespoons butter and 2 tablespoons oil for slightly more richness)
2
medium brown onions, small dice
2
medium red onions, small dice
1
green bell pepper, small dice
1
red bell pepper, small dice
1
yellow bell pepper, small dice
2
poblano chiles, small dice
6
cups
crushed tomatoes (if using fresh tomatoes, run them through a food mill)
½
tsp
freshly ground black pepper
3
tbsp
Cajun Power Garlic Sauce
½
tsp
Steen's cane syrup or light corn syrup
1
tsp
hot sauce (Tabasco or Crystal)
2
tbsp
Worcestershire sauce
4
tsp
chopped fresh thyme (or 1-1/2 teaspoons dried thyme)
¼
cup
fresh squeezed lemon juice
3
lbs
medium shrimp, peeled and de-veined
15
cups
cooked long-grain or converted rice (about 5 cups raw)
1
To make a simple, quickie shrimp stock, reserve the shells and heads from the peeled shrimp, add to 2 quarts cold water, bring to a boil, lower heat and simmer for 30 minutes. Strain thoroughly. Or see Shrimp Stock. Sweat the onion, celery, bell pepper and garlic in oil and/or butter in a large covered pot until tender, about 15 minutes. Add all of the remaining ingredients except the shrimp. Bring to a boil, then reduce heat to a simmer. Simmer the sauce for 30 minutes. Add the shrimp. Simmer an additional 15 minutes. To serve, heap about 1 cup of rice in the center of the plate, and ladle a generous amount of the sauce around it. Garnish with fresh chopped parsley. Serves 15 regular people, or about 7 Cajuns.